Deepak delivers sensational win, Jalolov and Kunkabayev to meet in the next stage
May 7th, 2023 / Tashkent 2023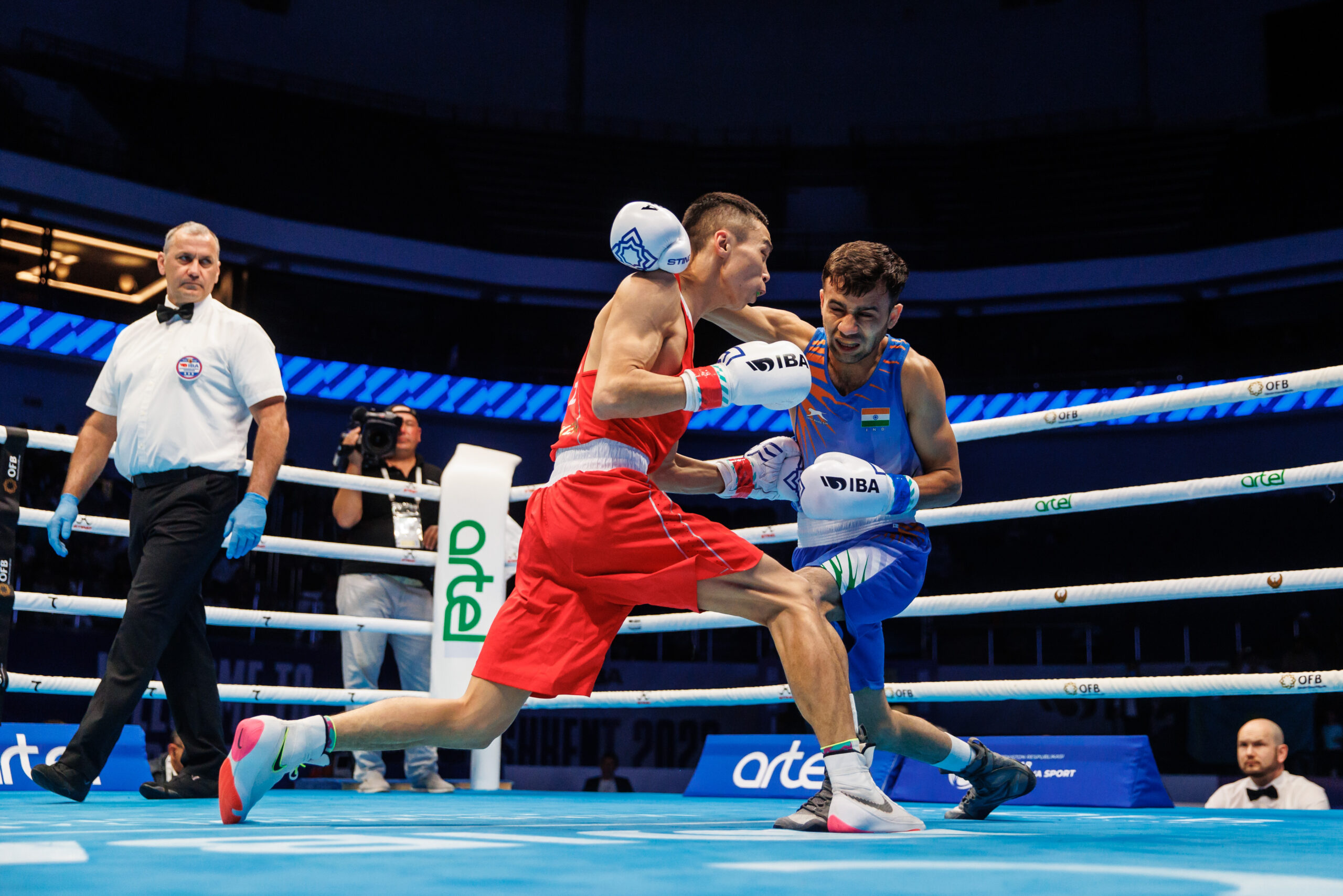 The Day 7 of the IBA Men's World Boxing Championships brought surprises and exciting moments, along with upsets and bitter losses for others. 
Deepak from India delivered a major upset of the tournament in the 51kg category, defeating first-seeded World Champion from Kazakhstan Saken Bibossinov in a close fight. The third round was a decisive one, and Bibossinov couldn't show his best because of a cut. Following the 3:2 judges' verdict favoring Deepak, the observer and evaluator agreed with the majority at the bout review, and the Indian marched into the next stage by a split decision of 5:2 (2:0BR). Deepak's best achievement was a silver medal at the Asian Championships in 2019, but today he had his best fight to prove his prospects at the competitions and beyond. Deepak's next rival is Jiamao Zhang from China, who confidently eliminated Mehrob Hamidov from Tajikistan with a great advantage. 
'My target was to box with patience from the start of the bout and land as many punches as I could. The first two rounds were tough but I was focused on not losing my patience and waiting for the right moment to attack. Coaches told me to lure my opponent with the right punch before using my left hook to good effect. It worked as I connected a lot of left hooks to score an advantage. Every bout is important to me, and I fight every time like it's a final bout for me. I am focused on winning my next contest now,' Deepak said following his success.
Fourth-seeded 2-time World Championships' medallist Billal Bennama from France started his campaign with victory over Huthaifa Eshish from Jordan by a unanimous decision. He is to face Thitisan Panmot from Thailand, who stopped Kanneth Tam Chun-Hin from Hong Kong in the second round. World Champion in 54kg Tomoya Tsuboi from Japan now competes in the 51kg, today he was stronger than Vasilii Egorov from Russia by a split decision of 4:1. David Macharia from Kenya made it to the round of the Last 16 and will face Tsuboi in the next fight.  
Olympic champion Hasanboy Dusmatov delighted the home crowd again with his victory over sixth-seeded Said Mortaji from Morocco by a unanimous decision. 
First-seeded Kazakh boxer, Serik Temirzhanov defeated Hungarian rival Roland Veres by a unanimous decision in the 57kg category. In a contest between two representatives of the American continent, Cuban Saidel Horta fought against Jose De Los Santos from the Dominican Republic. After a close fight, the bout review overturned the result in favor of Cuban, who celebrated the victory by a split decision of 4:3 (2:0BR). Horta and Temirzhanov are to meet for a quarter-final medal contest on 10 May.
In the 75kg division, first-seeded Salvatore Cavallaro from Italy needed only 2 rounds to eliminate his first rival at the tournament, Mirsharif Kazimzade from Azerbaijan by way of knockout. Pylyp Akilov from Hungary celebrated a victory over Giorgi Kharabadze from Georgia, and now he is to face Cavallaro in the Round of 16.    
Uzbekistan's Abdumalik Khalokov, the silver medallist of the previous World Championships in 60kg division, is ready to give a fight to everyone on the way to the title in the 57kg. Two years ago, he fought in the World Championships finals and couldn't make it against Sofiane Oumiha from France. This time, Khalokov changed his category and secured his second victory today. He eliminated Charlie Senior from Australia, and despite the result, both performed backflips in the ring. Khalokov is to challenge Yousef Iashash from Jordan to reach the semi-finals and guarantee a medal in the home tournament.   
In super heavyweight, Olympic medallist, fifth-seeded Abner Teixeira from Brazil unexpectedly lost to Nikoloz Begadze from Georgia by a split decision 1:4. Another seeded boxer, Mahammad Abdullayev from Azerbaijan is waiting for Begadze in the quarter-finals.  
One of the favorites of the category, Uzbekistan's Bakhodir Jalolov finished his bout against Australian Teremoana Teremoana in the second round when the referee stopped the contest. Another favorite, Kamshybek Kunkabayev from Kazakhstan eliminated Mohammad Mlaiyes from Syria by a unanimous decision. Jalolov and Kunkabayev are to face each other in the next fight to deliver one of the most anticipated contests of the championships.
Second-seeded Ahmed Hagag from Austria and Ayoub Ghadfa from Spain celebrated their respective victories in the 92+kg division to meet each other in the next stage of the competition. Ghadfa, however, received a cut due to a head clash with his opponent less than a minute before the final gong, which wouldn't make it easier for him in the next fight. 
Watch IBA Men's World Boxing Championships fights at the iba.sport website.