Boxing and family. Meeting Gabriel Maestre
It's 11.00am, and a wet and sticky heat overwhelms all. In days like this, any movement means an effort for everybody, and it's very difficult to find a good mood. However, a smile welcome us when we get out of the jeep in front of the boxer's hotel in Vargas, Venezuela, the host city of the American Confederation Boxing Championships.
A man wearing a colorful Venezuelan tracksuit waits under the strong tropical weather. This quiet and friendly man is Gabriel Maestre, Venezuela's last Pan American Games Welterweight gold medalist.
After shaking hands with a short introduction, Maestre guides us to the hotel gym between nervous laughs. He doesn't like interviews. Despite being a real champion and a role model for the Venezuelan youth, he isn't used to being the focus of attention.
Once he wears his boxing trunks and starts warming up for the photo shoot, his shyness disappears. His eyes, elusive before, become bright and determined, while his hands and feet start dancing in the gym. Maestre is in his element.
At 28, the captain of Caciques de Venezuela is a quiet man. Aware of his origin, his success in the ring didn't change him. The son of a master builder and a housewife, Maestre was born and grew up surrounded by his three siblings (two girls and one boy) in the poor neighborhood of "La Aduana" in Barcelona. "There are always dangers in the neighborhood, but in time it has calmed down. There are bad and good people everywhere," he says.
He adds that he enjoyed a happy and quiet childhood. "I played ball with my brothers and friends. I always loved baseball, a popular sport here. My parents enrolled me in a team called "Caimancitos". But boxing arrived, and there wasn't anything more for me with baseball."
It was his cousin who took him to the gym for first time. Maestre was 13, and he recognises that if his cousin didn't "get out him of classes and enrol him in boxing," he wouldn't be the same now. There was not always support at the beginning. Between emotional laughs, he remembers the annoyance of his mother when he arrived home after his first boxing match with a black eye. "She always told me to stop boxing because there are a lot of punches," he remembers.
His wife, whom he met at school, also didn't like the idea of seeing her husband in the ring. "At the beginning she didn't like it. But when I started to win and travel to different countries, she changed her mind. She knows that we owe all that we have to boxing now".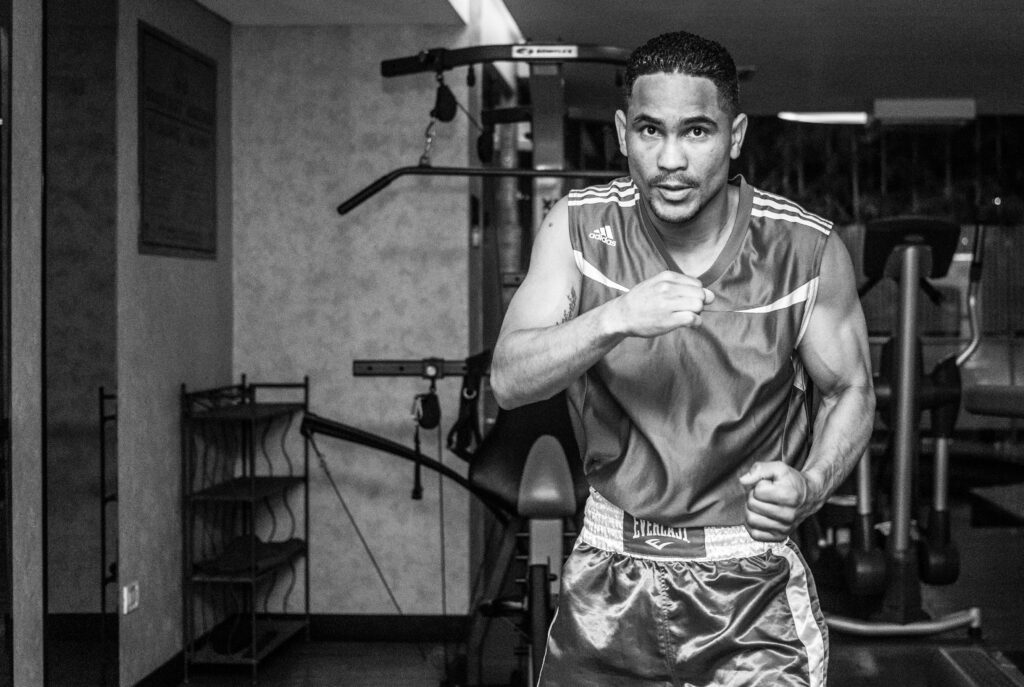 In the 2013 World Boxing Championships in Kazakhstan, he reached the third step of the podium, and one month ago, he conquered the Pan American Games in Toronto after defeating the Cuban Roniel Iglesias in the Final. "I feel very happy. To be Pan American champion is one step more to achieving the Olympic Medal. And it meant even more having defeated Roniel in the final."
They have a complex relationship. Iglesias is one of the most dominant boxers of the past few years, and is World and Olympic Champion. Maestre was always was under his shadow, and described Iglesias is his "biggest opponent in all the competitions."
But otherwise, this relationship is one of the biggest motivations of his boxing career. "He is my motivation to train. Since I beat him, I'm more confident. Every time that I punch the bag, I'm thinking of him. He can defeat me in every competition."
The Cuban could have his first rematch this week in the American Continental Championships since that famous Toronto defeat. But Maestre's eyes talked by themselves when we asked him about the potential match. "It's an excellent fight for me at home in Venezuela. Now that I can fight and win against the best boxer in the world, any boxer who wants to defeat me will have to sweat a lot."
But Iglesias isn't the only danger in the first competition which merges the stars from the three programs of AIBA: World Series of Boxing, AIBA Pro Boxing and AIBA Open Boxing. "It will be a big competition, probably harder than the Pan American Games. The best boxers of the continent will be here."
One of the main questions in this competition is how the APB and WSB boxers can adapt to the three round format. "The change isn't very hard. In WSB, we fight every 15 days across 5 rounds, so I think that fighting 3 rounds is not very different." He already proved that was true in Toronto.
When we talk about boxing and results, his face shows concentration. The Aduanero's is a man with a clear objective. His eyes, his voice, his expressions… All of him shows that he is ready and concentrated. "My dream is become Olympic Champion", he assures us. "After the Pan American Games, now is the time to look for the Doha 2015 quota, and after we can start talking about Rio. I'm very motivated and in very good shape."
One of the pillars of his progression is the World Series of Boxing, and Caciques de Venezuela. "I grew up a lot with WSB, especially the preparation and boxing every 15 days. To box strong opponents like Kazakhstan, Azerbaijan and Poland gave me a lot of experience."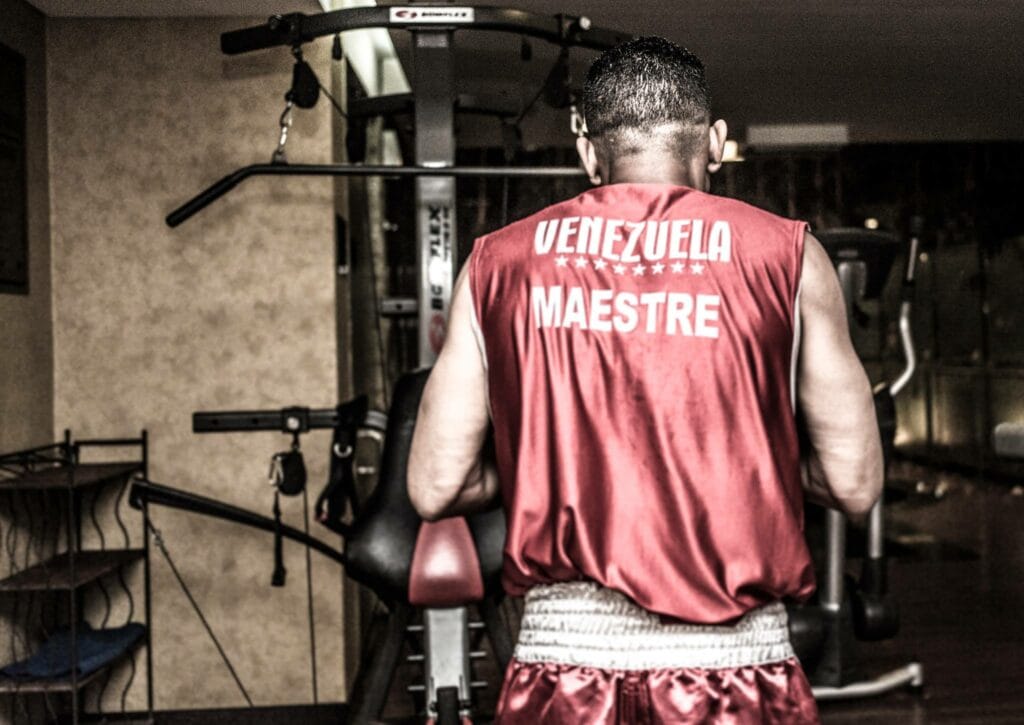 It was not only Maestre that profited from the World Series of Boxing, as Venezuela earned their best results in a Pan American Games one year after their debut in WSB.
The welterweight also feels a special responsibility. He knows that he is the captain, and is responsible of the young boxers of the "vinotinto" team. "I'm very motivated to train, and I always try to pass my motivation to the others. I'm the captain, and if I'm motivated, they should also be motivated."
At 28, he assumes his big responsibility with the calm of a self-made man. "It is very good to have Caciques in Venezuela. We are an example to all the kids that like us, grew up in poor neighborhoods. These kids watch us on national TV fighting for our country. It is very good for society."
And if the Caciques were delighted by anything during their debut year, it was the fan support that they enjoyed, as the atmosphere at the venue was always magic. "Fighting at home, with family and friends around is very motivating. With 30 million Venezuelans watching us on TV, it is something amazing. Fighting for your country is the biggest." The team answered the support with a magic season, in which a single point deprived them of the change to fight in a playoff.
Boxing and family. These are the two words that Maestre repeats most during the interview. Boxing and family. This is the life of probably the best Venezuelan boxer. A quiet guy, simple, self-made from the roots. A man that only dreams of bringing more success to his family and country.
These days, Gabriel Maestre will hear praying at home. "My wife and my mother are very catholic, and the night before the match they pray a lot for me". But he will also hear laughter. "When I come back home after a fight my daughter is always very happy. She never tell me anything if I arrive with a black eye. She is happy."
Boxing and family. That's Gabriel Maestre.