Bennama, Oralbay and Jalolov are the next finalists at the IBA Men's World Boxing Championships  
May 12th, 2023 / Tashkent 2023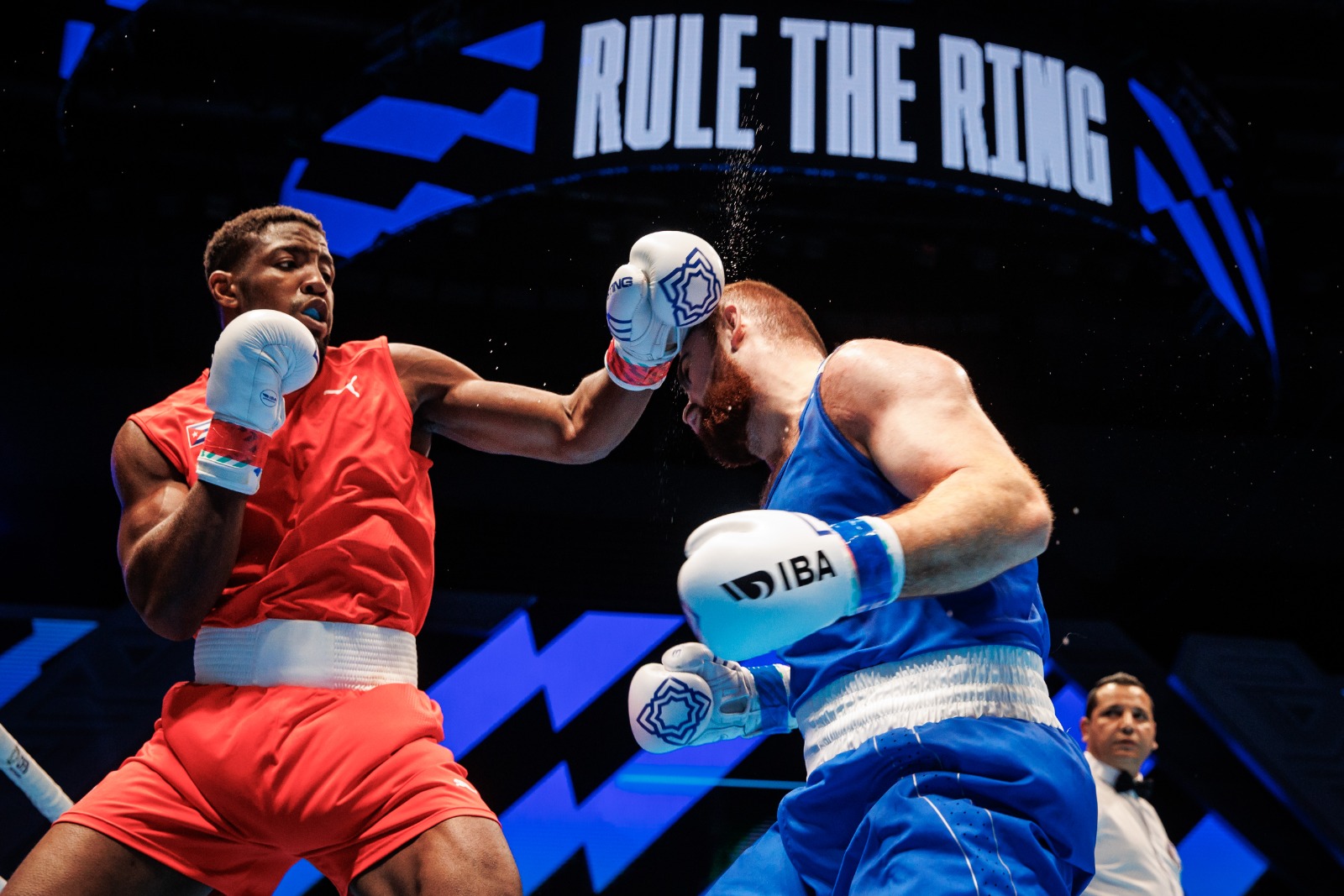 The second part of the semi-finals at the IBA Men's World Boxing Championships was no less exciting with 10 more fights at the Humo arena in Tashkent. 
Billal Bennama from France met with Deepak from India in a 51kg semi-final contest. In a close and intense fight, Bennama was stronger by a split decision following a bout review that confirmed a close fight. His rival for a final was determined in a fight between Hasanboy Dusmatov from Uzbekistan and Salvador Molina from Spain. An Olympic champion, Dusmatov has no World title on his record, and his only goal for the final is to secure the gold medal. Following Dusmatov's unanimous victory, an exciting final between France and Uzbekistan will become one of the most highly-anticipated ones in Tashkent. 
In the 57kg category, Abdumalik Khalokov from Uzbekistan finished his fight against Munarbek Seiitbek-Uulu from Kyrgyzstan ahead of time. The referee stopped the contest in the first round because of the injury of a Kyrgyz boxer. Uzbek boxer is to meet with Saidel Horta from Cuba who won by walkover. 
First-seeded Hovhannes Bachkov from Armenia lost to Ruslan Abdullaev from Uzbekistan. During the 63.5kg bout, Bachkov was on the floor and the referee counted him after a knockdown. Abdullaev won by a unanimous verdict and proceeded to the finals. In another fight of the category, Chinzorig Baatarsukh from Mongolia was stronger than Bakhodur Usmonov from Tajikistan by a split decision of 4:1. Abdullaev is to meet Baatarsukh in a gold medal contest. 
Aslanbek Shymbergenov from Kazakhstan was stronger than Nishant Dev from India by a split decision in the 71kg division, and the bout review confirmed his advantage 5:2 (2:0BR). Uzbekistan's Saidjamshid Jafarov overcame second-seeded Wanderson de Oliveira from Brazil by a split decision 4:1. Shymbergenov meets Jafarov in an Uzbek-Kazakh duel. 
Chinese boxer Tanglatihan Tuohetaerbieke met with Gazimagomed Jalidov from Spain in the 80kg category. After a close fight full of powerful punches, Tuohetaerbieke celebrated a victory by a split decision confirmed by a bout review of 5:2 (2:0BR). Imam Khataev from Russia gave a fight to Nurbek Oralbay from Kazakhstan, but couldn't make it to the final. Oralbay eliminated his rival by a split decision 4:1 and proceeded further to meet with Tuohetaerbieke in a gold medal bout. 
In super heavyweight Cuban Alejandro Arzola was counted a knockdown following the body punch in the third round, however, he was stronger than Mahammad Abdullaev from Azerbaijan and won by a split decision of 4:1. He meets in an exciting fight with local superstar Bakhodir Jalolov who won today by walkover.