AIBA WCHs Quotes of the Day 2 
October 26th, 2021 / IBA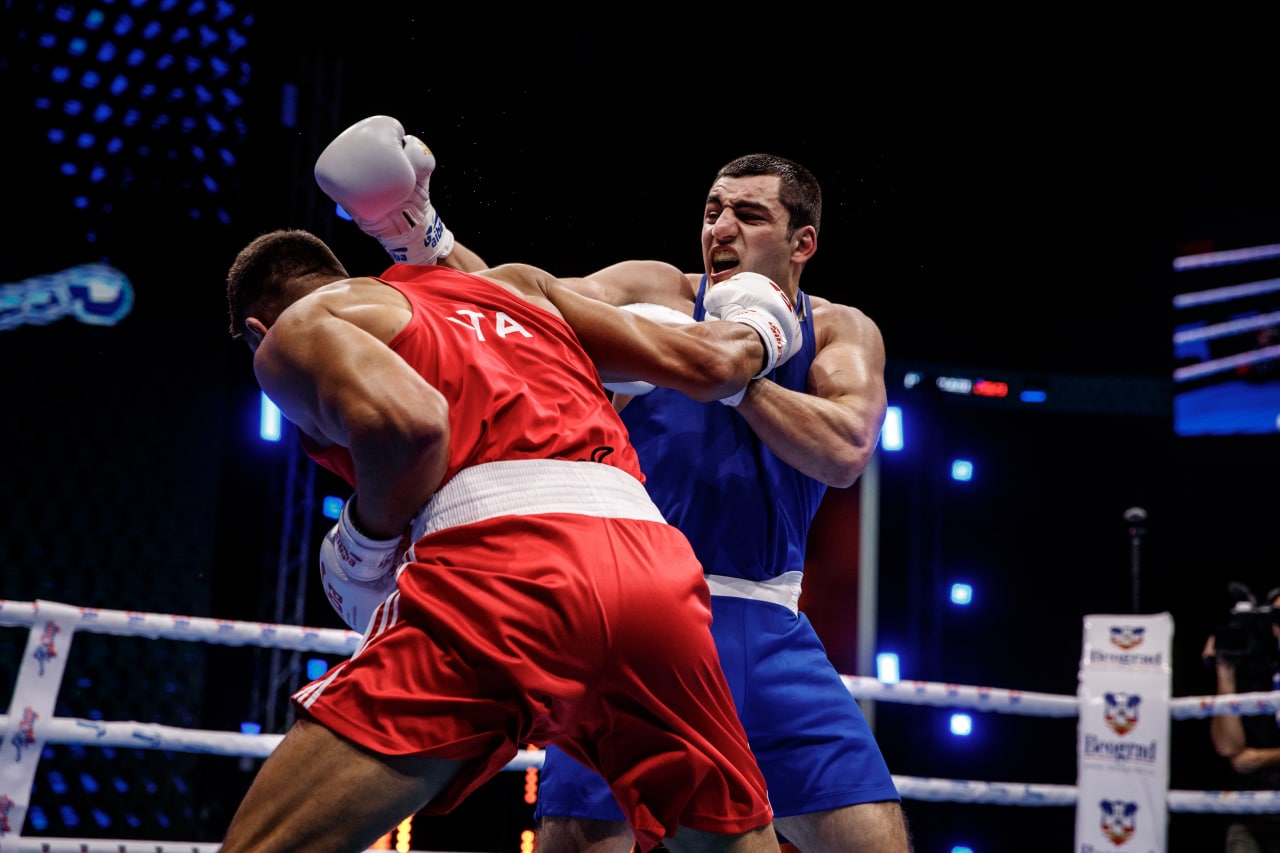 Quotes of the second competition day at the AIBA Men's World Boxing Championships in Belgrade, Serbia.
Aziz Abbes MOUHIIDINE (ITA) won Narek MANASYAN (ARM) – 5:0
I am very satisfied with the outcome of the bout but it's just the beginning. I had really good opponent, not easy to beat, but it just established the goal for the future fights. I am truly honored to compete under Italian flag on this important tournament, and I hope to bring good results back home. Boxing is everything for me. Boxing teaches you about the life, not only inside of ring, but also outside of it. It teaches you about the respect you need to have for people and your opponent. If you want to know what happens before I enter the ring, you need to ask my coach. I grew up with him. He always gives me the strength and cheers me up telling me that I am the best and capable to win. We are the team, but more than that, we are family. It is hard to find younger boxers than me on this competition, since I am 23 years old, but to ones that I can be a role model to, I 'd  advice them to always do physical activities, boxing or any other one; but boxing is the best one for sure.

Aziz Abbes MOUHIIDINE (ITA)
Enmanuel REYES PLA (ESP) celebrated a victory over Vagkan NANITZANIAN (GRE) – 4:1
It is great that I started this competition with a victory, I feel very good. World Championships is my motivation and I worked hard for it. A greatest feeling any boxer can experience is to represent his country at the World Championships, so I feel great. Boxing is my life, I have been into it since I was a kid. I would like to send a message to the younger generations: keep doing boxing, because it will prepare you for all the life obstacles on your path.

Enmanuel REYES PLA (ESP)
Lewis WILLIAMS (ENG) eliminated Rauf RAHIMOV (AZE) – 5:0
I have trained so hard and the positive outcome of this match proves that. I am proud to be a part of such a massive event. I had to prepare for my whole life for this Championships.

Lewis WILLIAMS (ENG)
Sadam MAGOMEDOV (SRB) won Emir BUYUKDAG (TUR) – 4:0
After two years of break, I'm back to the ring. It was confusing in the first round until I figured out how to work, but after that I found strength to come back. There was a lot of support, which helped me a lot. A part of my strategy was analyzing the opponent in the first round, and then start working at a full speed. Now I have two days of rest. The first day I'm going to relax and on the second day, I will probably have a light training. My next opponent is from Brazil, he is a strong boxer, so we're going to prepare for that fight.

Sadam MAGOMEDOV (SRB)
Gabrijel VEOCIC (CRO) eliminated Hector AGUIRRE MARTINEZ (MEX) – 4:1
I am overwhelmed to win this match, but honestly, this is not "my boxing". I am not completely satisfied with my performance tonight. It is just not my day today, the first match is always the worst one but I hope that in the future I will do better. I feel amazing being here in Serbia, it is like home here. The organization is on a really high level, I have never participated in the World Championships as good as this one. My love for this sport started growing since childhood, middle school to be exact.

Gabrijel VEOCIC (CRO)
Almir MEMIC (SRB) won Lewis RICHARDSON (ENG) – 4:1
The 3rd round was the hardest one, we were really close but I tried my best to win for my country. The home crowd is amazing but my biggest support is my coach, who always tells me the right things to do. My next opponent is the guy to whom I lost 2 years ago at the World Championships but the motivation for the win now is much higher.

Almir MEMIC (SRB)
Rami KIWAN (BUL) celebrated victory over Pablo COY BERNAL (ESP) – 5:0
I'm honored to be a part of this Championships and to represent my country, Bulgaria. I started to practice boxing because I was kid full of energy.

Rami KIWAN (BUL)
Soma MESTER (HUN) eliminated Aaron PRINCE (TTO) – 4:1
I am feeling overwhelmed after this tiring tactical fight. It is great to enter the ring with the proud feeling in my heart and with the national flag on my back. Boxing is my passion and I started boxing because of all the qualities it can teach us.

Soma MESTER (HUN)
Ronaldo DA SILVA (BRA) won Po-Wei TU (TPE) – 5:0
I am really happy to represent my country. Brazil is big country and we have great football, but also we have good boxers. I have been training my technique in the ring, strength in the gym, just to accomplish this in the match and I am really happy with the results of the first fight. Now I need to rest before the next fight.

Ronaldo DA SILVA (BRA)
Komadina Mateo (CRO) celebrated victory over Jong Seung LEE (KOR) – 4:1
My opponent performed really well, but despite the strength, I also had faith on my side. After the first two rounds, he knew he was losing this bout, so he wanted to knockout me. That is why I didn't perform on my usual level.

Komadina Mateo (CRO)
Shabbos NEGMATULLOEV (TJK) won Silvio SCHIERLE (GER) – 3:2
There were many punches during this fight but I would say that technical things decided the winner at the end. I don't know who is my next opponent, and I don't really see the need for analyzing his fighting skills. I try to focus on what happens in the ring, and I am not afraid to confront any fighter.

Shabbos NEGMATULLOEV (TJK)
Gregor STARASINIC (SLO) lost to Luka PLANTIC (CRO)
Despite the fact that I am in a bad mood, since I didn't present myself in the best light today, I have to admit that this experience will contribute my further work. This is my first time on an event like this, and definitely not the last one, since I'll go further and still continue to fight.

Gregor STARASINIC (SLO)
Maxim SCHEJBAL (CZE) lost to Ren UMEMURA (JPN)
I am very tired, and also hurt as you can see, but that's boxing, so I am sure that next time will be better. This is my first World Championships, an amazing experience, and I am looking forward for the following ones.

Maxim SCHEJBAL (CZE)
Salvatore CAVALLARO (ITA) won Anton EMBULAJEV (FIN) – 5:0
As for all of fighters, victories motivate me the most. It all started when I was 11, when my father took me in the ring. He doesn't do boxing himself, but he is the great fan of it, we are into this together. The new categories give new opportunities to more fighters. This is my third World Championships, and I am sure there will be many more.

Salvatore CAVALLARO (ITA)
Dzianis SALOTSKIKH (BLR) won Tanaka SYOGO (JPN) – 3:2
I am very satisfied with the outcome of this fight, I won thanks to my coach. This is my first World Championships, and, therefore, I was feeling nervous when I entered the ring. This is only the beginning and I am looking forward to the upcoming matches. With passion and dedication, you can make everything possible.

Dzianis SALOTSKIKH (BLR)
Kiaran MACDONALD (ENG) lost to Yuberjen MARTINEZ RIVAS (COL) 
My opponent is an experienced fighter, I feel like I could've done better. This is definitely where I want to be, on a big stage, I am actually happy with the fact that I fought with such a good fighter as Yuberjen. We are all going to come back stronger than before. I used to play football but I went into a boxing gym after Tony Jeffries won, so I followed his success.

Kiaran MACDONALD (ENG)
Andy CRUZ GOMEZ (CUB) won Jonathan MINIEL (PAN) – 5:0
The most difficult thing in the first fight was the condition, adaptation to the ring. And I think that even though it was my first fight, it was quite acceptable and I think that as competition goes I will improve step by step.

Andy CRUZ GOMEZ (CUB)
Luka PLANTIC (CRO) won Gregor STARASINIC (SLO) – 5:0
For the introductory fight, we went with a good tactic because a lot of first bouts did not end well. But now I did it according to the plan, and we tried to make an effort not to get tired, to bring the match to the end and win. The most difficult part of the match was the start – observing the opponent in order to see his skills and understand his tactic. But after all, none of the three rounds were impossible to win. Next bout I will meet with the fighter from Belarus. We will try to analyse his possibilities and develop the tactic for the following bout.

Luka PLANTIC (CRO)
Petar MARČIĆ (MNE) won Nystedt Nikita (FIN) – 3:2
Words of my coach had the crucial impact on me. In the third round, he said we must win the following one or it's over. That moment I realized that I have to do everything I can, so I pushed forward and followed all technical instructions which lead me to victory. Somehow from the beginning I was sure that I would win in the end. Not everything went as we planned but that's how it's sometimes in the ring and then you just have to improvise. My next opponent is from Barbados, I haven't watched his matches so far but I believe that I will win the following one as well. I don't think the coaches were nervous, I think Nikola Ruzic is a great coach and there is no space to be nervous.

Petar MARČIĆ (MNE)
Nystedt Nikita (FIN) lost to Petar MARČIĆ (MNE)
I'm little bit disappointed, but this is boxing. The difficult part was the tempo, the whole fight I didn't stand. I tried to hit so it's kind of frustrating. I'm not disappointed in myself, I'm young, so I have time to improve.

Nystedt Nikita (FIN)
Shiva THAPA (IND) won Victor NYADERA (KEN) – 5:0
I would say that it's never easy, any fight we shouldn't take it easy. It's all about how you adapt to your opponent. I think it was pretty good and I feel confident for next time. We had our national championships back there in India, I won and got selected to this tournament and I'm looking forward to becoming World champion.