AIBA President meets Cameroon boxing and government officials to reflect on high-quality Olympic Qualification Event in Yaoundé
March 23rd, 2016 / IBA
After nine days of superb boxing in the Cameroon capital of Yaoundé, AIBA President Dr Ching-Kuo Wu met with the country's Minister of Sports and Physical Education, M. Bidoung Kpwatt, to share his satisfaction with the tournament. Dr Wu also reflected on the positive collaboration between the Cameroon Boxing Federation, the African Confederation and AIBA throughout the event.
Dr Wu reiterated the strong support of his International Federation to African boxing, and the Minister concluded the visit by expressing his confidence that the tournament's success would play a major part in boosting the Cameroon team's standing in future AIBA tournaments.
Shortly before the finals saw 33 African boxers qualify for the Rio 2016 Olympic Games, Dr Ching-Kuo Wu, African Boxing Confederation President Mr Kelani Bayor, AIBA Executive Director Mr Karim Bouzidi and other Senior Executives were invited by the Cameroon National Olympic and Sports Committee President Mr Kalkaba Malboum to a working session in the presence of the President of the Cameroon Boxing Federation and his staff.
Mr Malboum outlined his strategy for boxing in the country and reiterated the importance of the sport which brought Cameroon its first Olympic medal in 1968 and another in 1984. The president went on to assure AIBA of his strong commitment to continue investing in boxing in all its forms.
AIBA President Dr Wu praised the achievements of the Cameroon NOC, adding that he was impressed by their forthcoming efforts which will reinforce the vitality of boxing and all Olympic disciplines in the country. Dr Wu also took the opportunity to wish Cameroon's athletes all the best at the forthcoming Rio Olympic Games.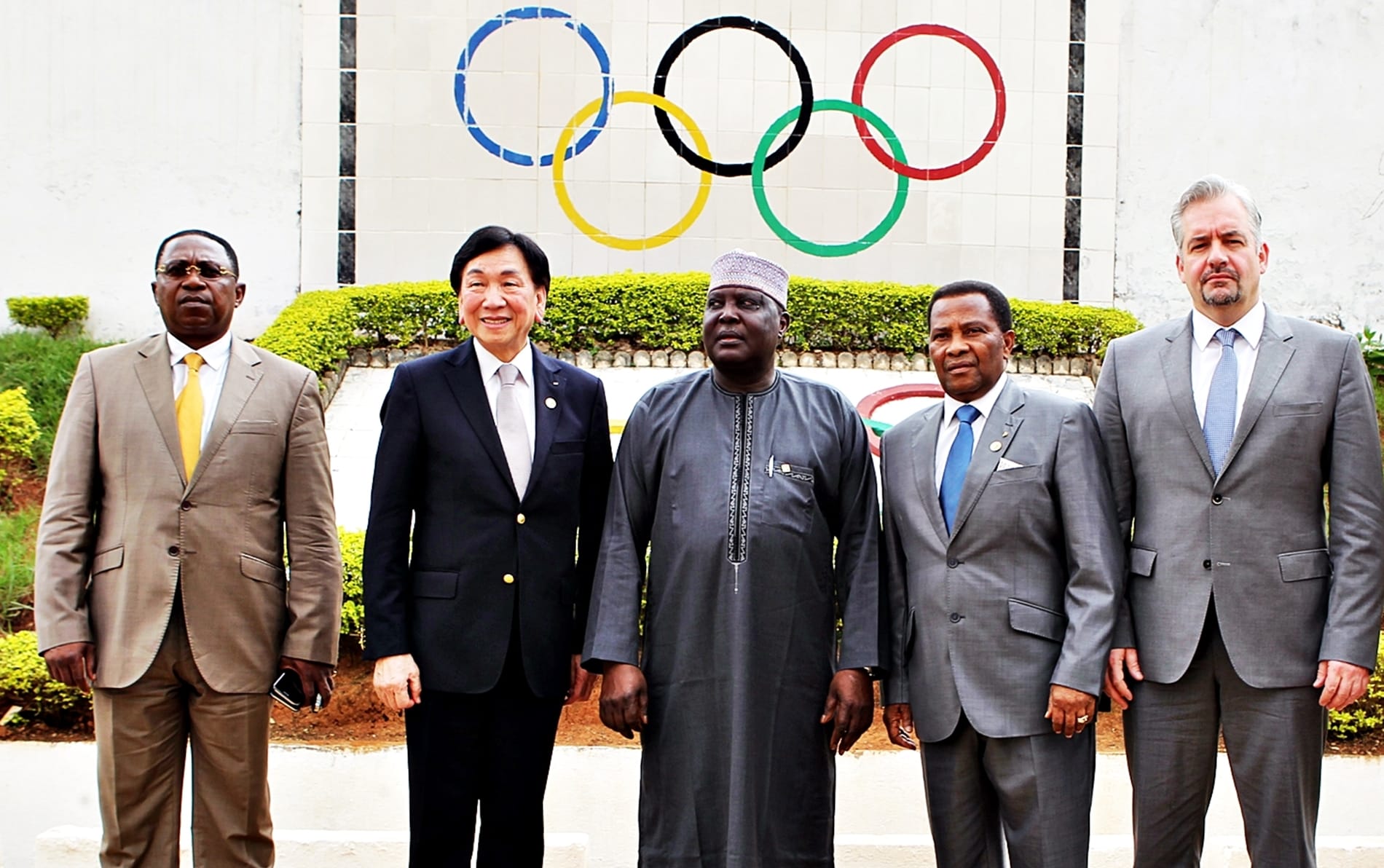 Mr Bertrand Mendouga, President of the Cameroon Boxing Federation, Dr Wu, AIBA President , Mr Kalkaba Malboum, Cameroon National Olympic and Sports Committee President, Mr Kelani Bayor, African Boxing Confederation President, and Mr Karim Bouzidi, AIBA Executive Director