Abu Dhabi delivers impressive social media coverage of the 3rd Annual IBA Global Boxing Forum
December 19th, 2022 / Global Boxing Forum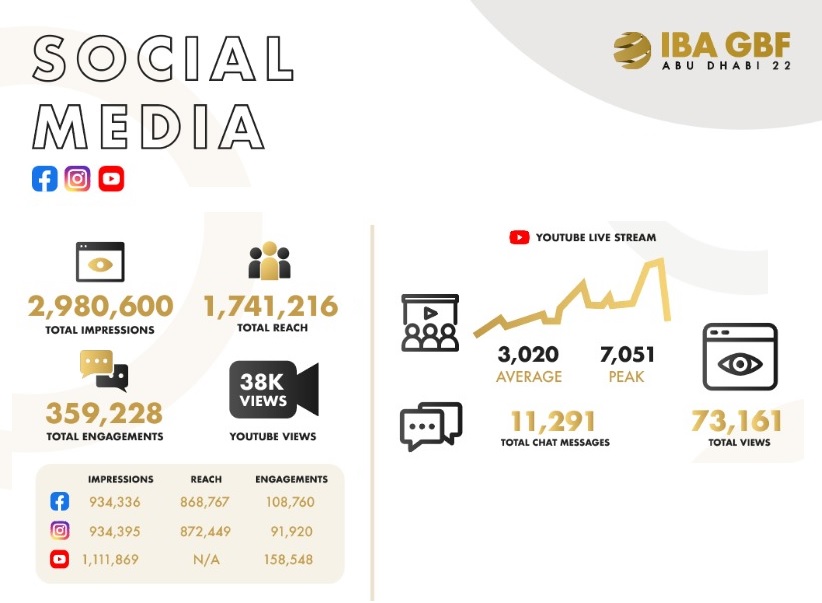 The 3rd Annual Global Boxing Forum is a unique platform designed to unite key boxing and sports stakeholders from all around the globe. The 2022 edition took place 10-11 December in Abu Dhabi and showed significant awareness not only on-site but also online due to massive engagement through a variety of IBA's digital platforms.
According to statistics, digital promotion of the Forum garnered almost 3,000,000 impressions through Instagram, Facebook, and YouTube. With total reach numbers hitting an impressive 1,740,000 people.
In parallel, IBA enjoyed more than organic 18,000,000 impressions thanks to high levels of engagement from influencers, delegates, and the boxing community representing all continents and more than 125,000,000 followers through a variety of social media channels.
"IBA is making great strides towards increasing digitalization of all communication, marketing, and media resources in line with the modernization and commercialization of our organization with 2023 being a key year for IBA's digital evolution as presented at the IBA Ordinary Congress', IBA Secretary General George Yerolimpos said.
Last week esteemed guests, legendary boxers, sports stakeholders and representatives of National Federations gathered in Abu Dhabi to discuss future of boxing and to witness the launch of IBA's first pro tournament, IBA Champions' Night.