A mother, a journalist and an HR professional: the stories of the day at the IBA Women's World Boxing Championships
March 19th, 2023 / New Delhi 2023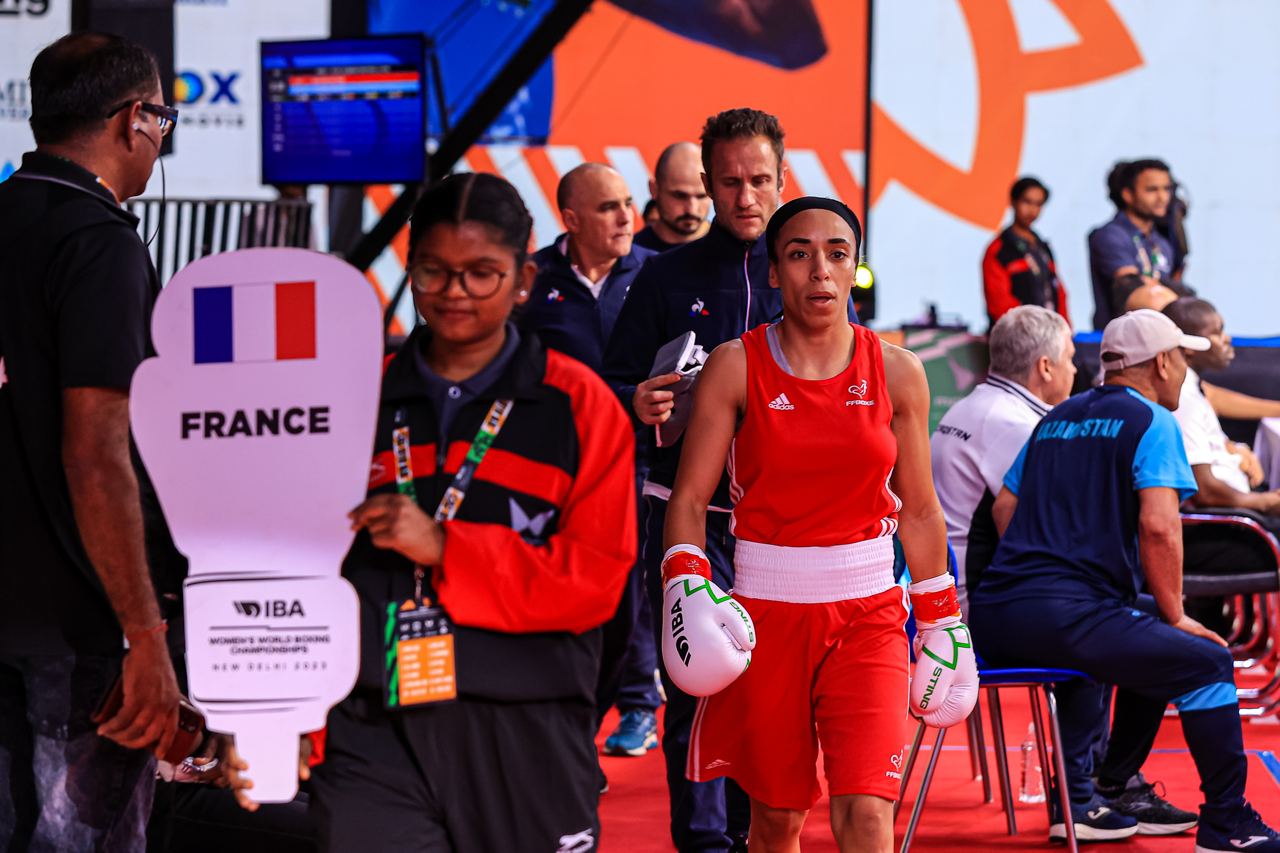 The participants of the IBA Women's World Boxing Championships in New Delhi are not only great athletes, but also great women. Some of them work full-time, others are mothers of children, and some left Afghanistan to bring glory to their country.
A YOUNG MOTHER
Wassila Lkhadiri from France came back from her maternity leave just 16 months after delivering a baby, Ayleen. So far, the 27-year-old mother eliminated her two strongest rivals in 50kg division. First, she saw off Chang Yuan from China, who is an Asian Games gold medallist.
Today, Lkhadiri eliminated Tokyo 2020 bronze medallist Tsukimi Namiki from Japan after a bout review overturned the result in her favor.
'It has been my first competition since my pregnancy, and I am very satisfied. I delivered a baby 16 months ago, and following that I gained a lot of weight. Now I managed to get fit for this Championships. My daughter is not with me now, I prefer to be concentrated only on the competitions, that's why Ayleen is with my parents now. All I do here, I do it for her,' Wassila confessed.
'I met with two really strong boxers, both of them were tough rivals, but I did it. The next fight is against Armenian Anush Grigoryan, step by step I am getting closer to my goal to be number one. Boxing for 12 years so far, I have enough experience, and I am happy to be here,' she added.
FIGHT FOR THE COUNTRY'S GLORY
Today, Sadia Bromand from Afghanistan lost her bout in 57kg to Elif Nur Turhan from Türkiye by RSC in the first round, however, her fight is not over. She's been doing boxing for the last five years, having started back in Afghanistan. A year after, she moved to Berlin to excel and succeed in boxing. Now she trains every day in a boxing club and writes articles as a sports journalist.
'I feel very well. In my homeland, women have no rights at all, they are not allowed to go to school or do sports. But I am delighted that I can do sports now in Berlin, I have freedom and can continue with boxing. In my homeland, it is really bad in terms of women's rights. I fight from here for all women from Afghanistan and I am very glad about it,' Bromand claimed.
'I want to inspire all women in Afghanistan with my story. Now, I want to go to the Olympic Games. This is my big dream. I need to train a lot, and then I can earn the Olympic gold medal and bring it to my homeland,' she added.
NEW ZEALAND'S PETERS TO ENJOY HERSELF
Jennifer Peters from New Zealand works full-time HR in her home country. Effectively, she works hard to combine two full-time jobs, as she is a national team boxer in the 57kg weight category. She came to the IBA Women's World Boxing Championships in New Delhi to "enjoy herself", as her coach told her to do.
Despite that the New Zealand boxer gave it all in the ring, her hand wasn't raised in her fight against Mahsati Hamzayeva from Azerbaijan, the latter proceeded further by split decision 4-1.
'I'll be emotional about this fight later, but right now I am happy. I gave it all in the ring today. Despite the outcome, I got a lot of experience,' she mentioned.
The path to New Delhi wasn't that easy, and some of New Zealand's athletes organized a crowdfunding campaign to compete in India.
'My employer signed up to sponsor me and gave me time off to come to the IBA World Boxing Championships, such a supportive employer I have! I work in human resources, and it's definitely a hard balance between being an employee and a boxer. You have to have real support from your employer, and I am lucky to have it. I've been doing boxing for 5 years, and now I want to qualify for the Olympics,' Peters said.
A GIRL NAMED "LOVE"
As sweet as it might sound, true love wins today: Thandolwethu Truelove Mathiba from South Africa defeats her rival Magaya Veliswa Siphamandla from Eswatini in the 50kg weight category by a unanimous decision. Both of her names mean the same, as Thandolwethu is "our love", so does her second name.
'Obviously, my mom was very much in love with my father, because both of my names mean the same. It was a message from my parents to me,' Mathiba said.
Following today's success, she meets Rabab Cheddar from Morocco to get to the quarterfinals.
'I am very happy with my victory, it's my second IBA World Boxing Championships, and last time I lost my first bout. To feel my hand raised at this competition means a lot to me.  My goal is medal stage here,' Thandolwethu added.
'I was a fighter from a young age, and one day I decided to join boxing, so I didn't fight in the street. Boxing in South Africa is promising, we have a lot of girls going in for boxing. It's growing step by step,' she concluded.