52 quarter-finalists awarded prize money at the IBA Men's World Boxing Championships 
May 13th, 2023 / Tashkent 2023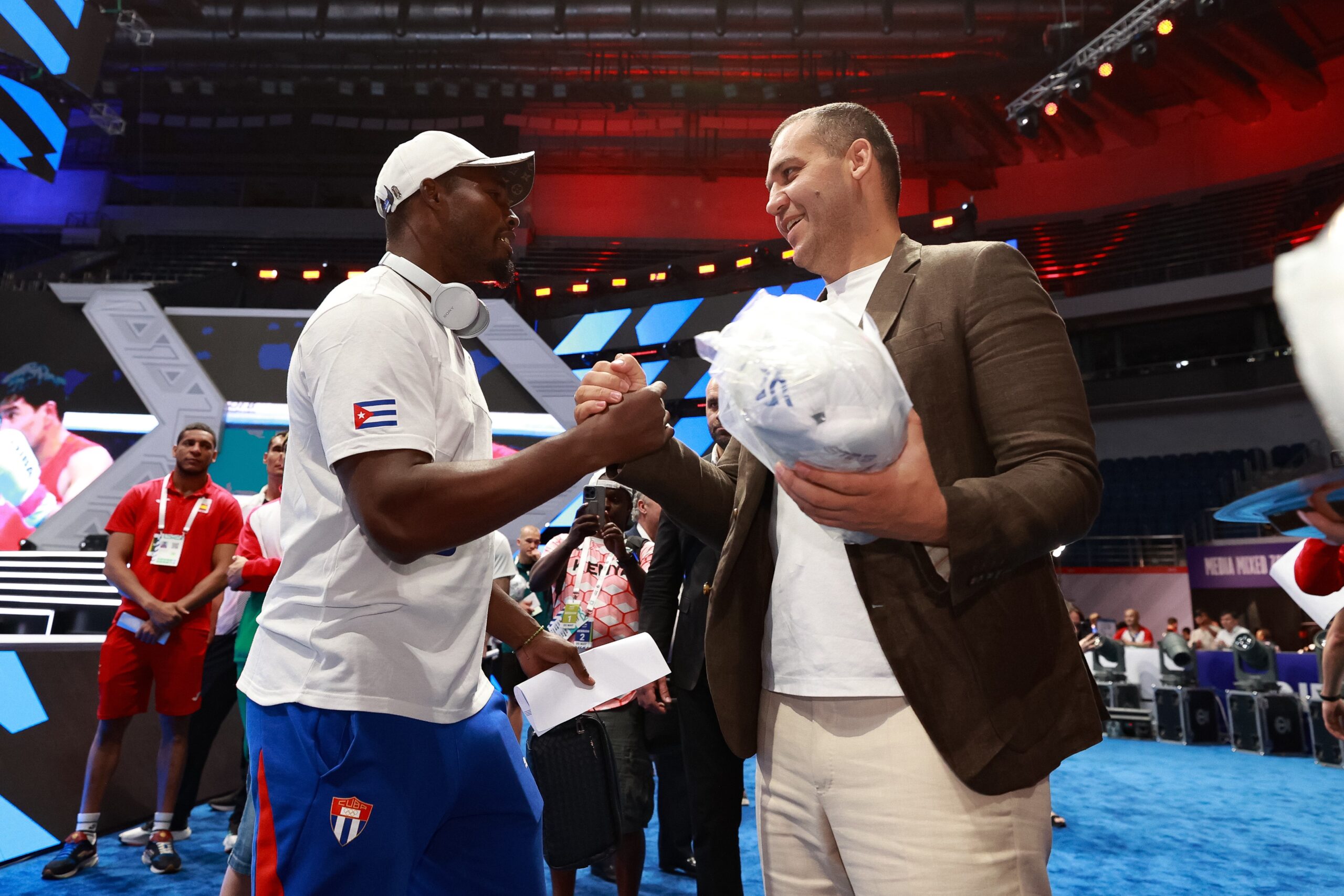 All 52 boxers who lost in the quarter-finals and finished fifth place at the IBA Men's World Boxing Championships have been awarded prize money for the very first time in IBA history. Each of the athletes received $3,000 USD from the IBA President Umar Kremlev.   
Addressing the boxers, President Kremlev stressed that the conditions for them are a top priority for the IBA, and the organization will do its utmost to support them further with prize money that will grow in the future.  
All quarter-finalists also received STING boxing gloves with the Men's World Boxing Championships Tashkent 2023 branding.
'IBA will stand for every boxer, for your right to represent your country. We will support you with prize money so you are able to provide for your families and secure your future,' President Kremlev claimed.  
Serik Temirzhanov from Kazakhstan, who competed in the 57kg division, thanked President for the attention to quarter-finalists. 
'I would like to express my deep gratitude to the President of the IBA Umar Kremlev for the support of those who remained one step away from the medal. I am sure it will be a great incentive for all boxers,' Temirzhanov said.
Radoslav Rosenov from Bulgaria who become quarter-finalist in 60kg, added that he will work harder to achieve more. 
'I am happy to receive prize money, it motivates me to keep working and show my best at the next IBA World Boxing Championships,' Rosenov told.
Enmanuel Reyes Pla from Spain, competing in 92kg, added that he feels appreciation from the IBA.
'It is very good that they give this award because that is how they also reward the effort of the athlete and that in the future there will be more and more athletes competing,' he mentioned.
Aleksei Alfiorau, competing for Belarus in the 80kg category, mentioned the rapid development of IBA.
'Every year, thanks to President Umar Kremlev, the International Boxing Association is developing more and more. This World Championships in Tashkent means a lot for us, Belarusians because here we can perform with our symbols of the country. From year to year, the IBA comes up with new goals and objectives for its athletes, it is very important that the boxers can earn money doing what they love. I am dissatisfied with my result in Tashkent because I know that I can do much better and deserve more, but I hope this World Championships will be an impetus for me to new heights,' Alfiorau said.