32 nations entered quarter-finals of the IBA Men's World Boxing Championships in Tashkent
May 9th, 2023 / General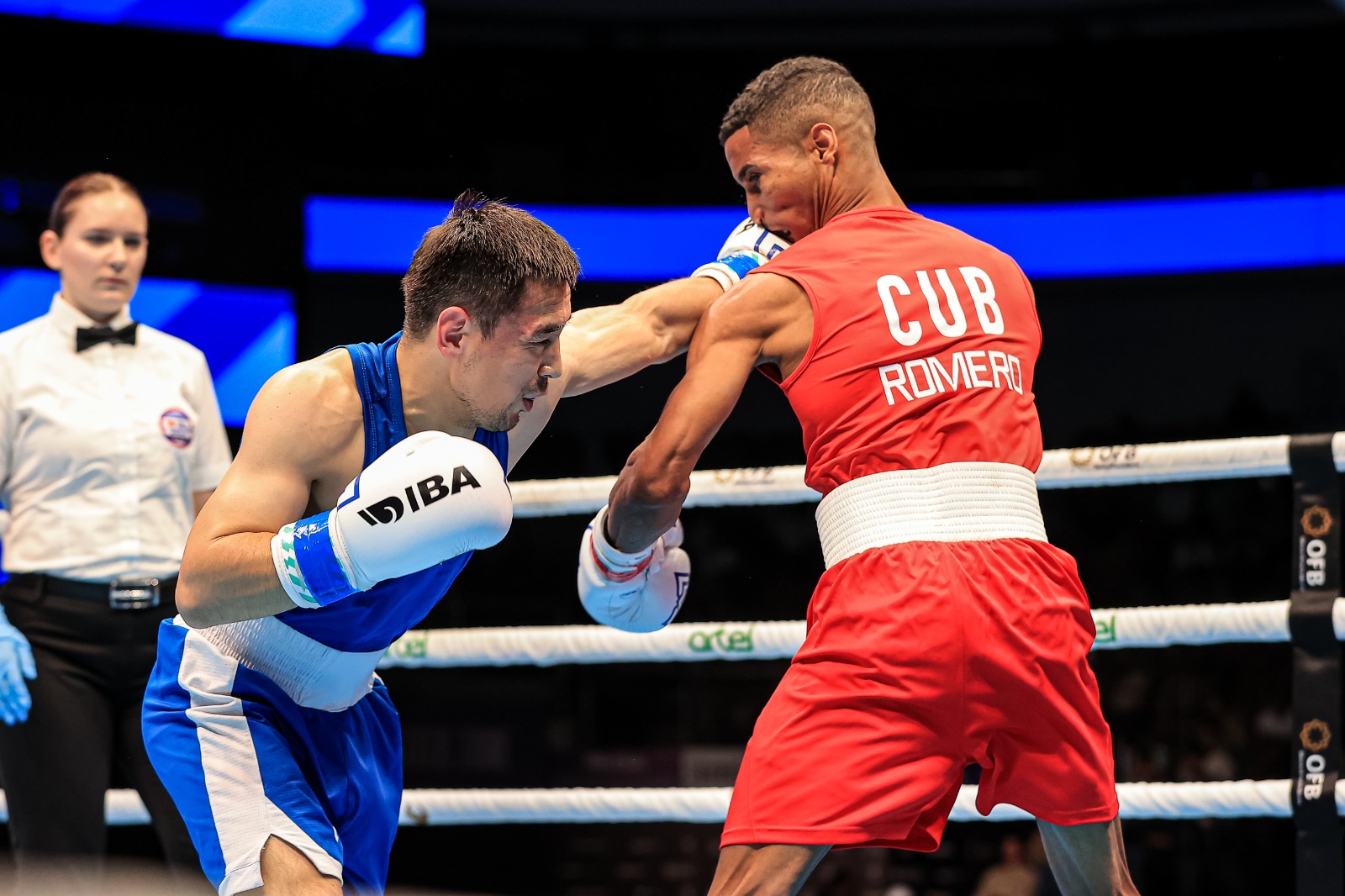 A total of 32 countries have reached the quarter-final stage at the IBA Men's World Boxing Championships in Tashkent. The bouts are set to take place on May 10th, determining the medal contenders who will compete for the top spots on the podium.
Six of the participating nations, Colombia, Georgia, Ghana, Venezuela, Zambia, and a representative from Scotland, have received assistance from the IBA Financial Support Program.
Cuba has the largest number of boxers in the quarter-finals, with 12 athletes qualifying for the pre-medal stage. Uzbekistan is close behind with 11 boxers, followed by Russia with 8, Kazakhstan with 7, and Spain with 6.
Notable quarter-finalists include India's Deepak, who gained confidence after eliminating defending World Champion Saken Bibossinov and will face Nurzhigit Diushebaev from Kyrgyzstan in a medal contest. Tu Po-Wei from Chinese Taipei overcame Ethiopia's Dawit Wibshet and will face Billal Bennama from France. In the 51kg category, World Champion Tomoya Tsuboi eliminated David Macharia from Kenya and will face local favorite Hasanboy Dusmatov in the last eight.
In the 71kg category, India's Nishant Dev stopped Palestinian rival Nidal Foqahaa in the first round and will face Cuban Terry Cuellar in the next bout. Saidjamshid Jafarov from Uzbekistan won by walkover and will face a serious challenge in Russia's Igor Sviridchenkov. Defending champion Sewonrets Okazawa from Japan lost to France's Makan Traore, who will now challenge Aslanbek Shymbergenov from Kazakhstan. In another quarter-final, second-seeded Wanderson De Oliveira from Brazil will fight Eskerkhan Madiev from Georgia.
In the 80kg division, third-seeded Imam Khataev from Russia faces Aleksei Alfiorau from Belarus, while Kazakhstan's Nurbek Oralbay and Eishaish Iashaish from Jordan will compete to determine the strongest in their medal contest. Arlen Lopez from Cuba overcame Hungarian Pal Kovacs and will fight against Chinese Tanglatihan Tuohetaerbieke, who won Abdelgawwad Salah from Egypt by knockout in the second round. Gabrijel Veocic from Croatia celebrated a victory over disqualified Omurbek Bekzhigit-uulu from Kyrgyzstan and will meet Gazimagomed Jalidov from Spain.
In the 54kg category, Makhmud Sabyrkhan from Kazakhstan proved his status as the first-seeded by eliminating Sachin from India and advancing to the quarter-finals, where he will face Mohammed Amadu from Ghana. Fifth-seeded Yosvany Veitia from Cuba is set for an intense bout against fourth-seeded Yoel Finol from Venezuela. Third-seeded Sanzhai Seidekmatov from Kyrgyzstan won by RSC against Josamu Joel from Zimbabwe and will meet Dmitrii Dvali from Russia. Gabriel Escobar from Spain secured a victory over Maroj Zoidov from Tajikistan and will now fight Oybek Juraev from Uzbekistan.
In the 67kg category, first-seeded Lasha Guruli from Georgia eliminated Alfred Kotey from Ghana, and his next opponent is Tarkhan Idigov from Russia. Third-seeded Cuban Roniel Iglesias won by RSC and will now face sixth-seeded Asadkhuja Muydinkhujaev from Uzbekistan. Dulat Bekbauov from Kazakhstan will challenge Mexican boxer Miguel Martinez. Mongolian Misheelt Battumur and Christiann Palacio from Venezuela secured their victories and will face each other in the quarter-finals.
In the 75kg category, Tajikistan's Nekruz Salimov and Uzbekistan's Alokhon Abdullaev will compete in their quarter-final contest to determine the strongest. Seventh-seeded Rami Kiwan from Bulgaria is set to face second-seeded Cuban Yoenli Hernandez. Number one seeded Salvatore Cavallaro was surprisingly defeated by Pylyp Akilov from Hungary, who will now face France's Moreno Fendero. Callum Peters from Australia will challenge Wanderley Pereira from Brazil after both won their respective Round of 16 fights.
Don't miss the action at the IBA Men's World Boxing Championships, which can be watched on the iba.sport website.