19 European nations earn 60 quota places to Doha World Boxing Championships as WSB and APB boxers triumph with a total of 22 medals
August 19th, 2015 / All
16 August 2015, Samokov, Bulgaria – A phenomenal day of finals action in the EUBC European Boxing Confederation Championships saw ten gold medal bouts entertain boxing fans all over the world from the superb venue in Samokov, Bulgaria. Just as the fighters who competed in Season V of World Series of Boxing excelled in June's European Games, representatives from this world class team competition also performed excellently in Bulgaria as they won 17 medals across nine separate weight classes, while AIBA Pro Boxing boxers won five medals in five weight categories, including two gold and three silver.
AIBA Pro Boxing Joseph Ward and Eimantas Stanionis, and World Series of Boxing boxers Michael Conlan and Filip Hrgovic were the real stars of the competition as they managed to adapt brilliantly to the 3 rounds (x3 min) format after having competed in pro (8 rounds x3 min) and semi-pro (5 rounds x3min) AIBA competitions. Lithuania claimed its first gold medal since 1993 thanks to Eimantas Stanionis, who masterfully managed to return to 3 rounds x 3 minutes format after having boxed in a pro boxing style (8 rounds x3 min) in Cycle I of AIBA Pro Boxing competition.
"I had to adapt my training for the three round format and I managed to get just in the right condition for the Championships and I think I achieved a great result. My technique was good and I punched hard until the end of each round. I am now looking forward to competing in AIBA World Boxing Championships and will continue my training for the Cycle II of AIBA Pro Boxing", said Stanionis after his Welter (69 kg) final.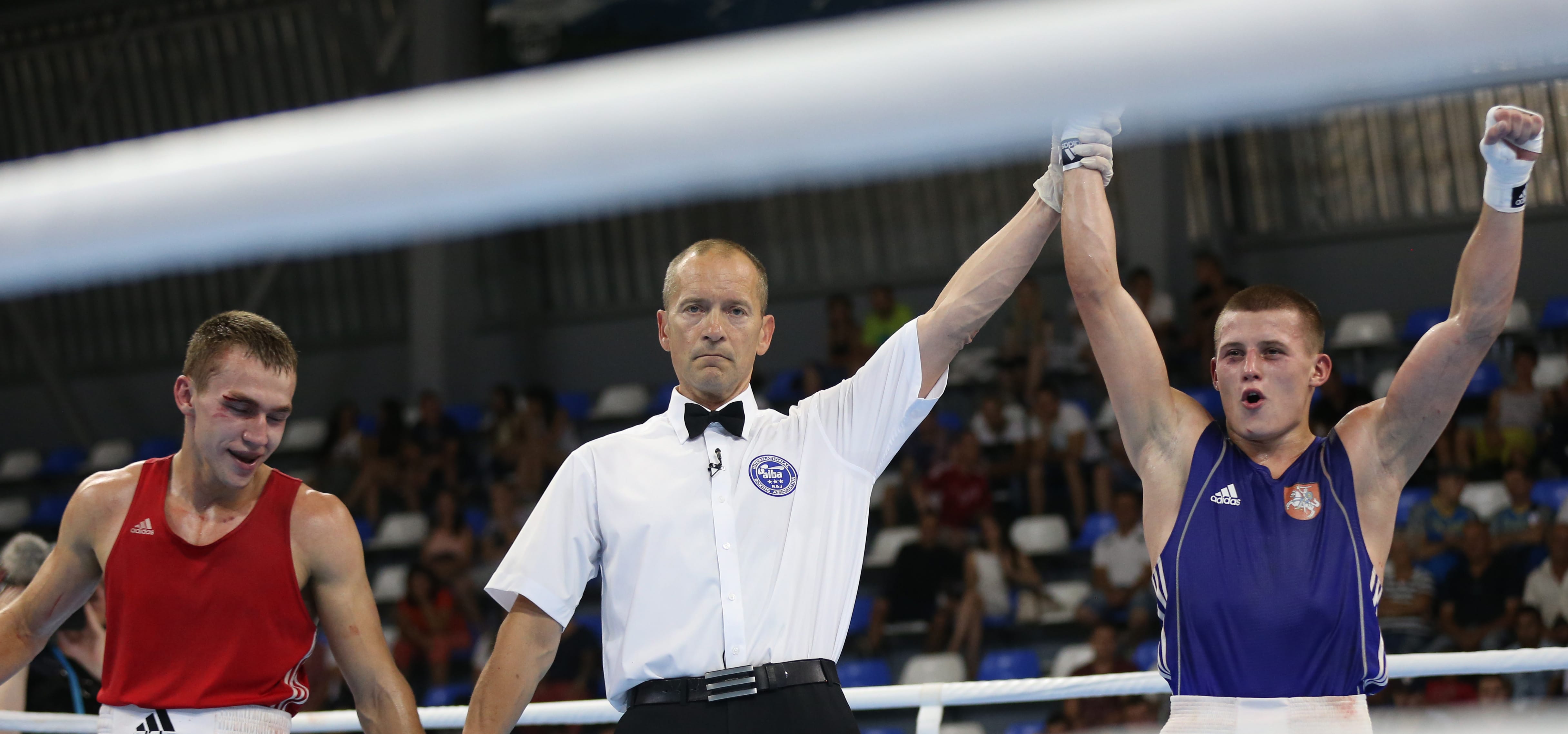 Croatia's Filip Hrgovic also adapted easily to the new format and continued his tremendous undefeated streak following his exploits in the World Series of Boxing and claimed Croatia's first ever continental title since the country's independence.
Russia topped the medal standings in the EUBC European Boxing Confederation Championships with a total of four gold medals just ahead of Ireland, Great Britain and hosts Bulgaria.
A magnificent total of 19 nations were able to win at least one medal in the Championships to signify the strength and vitality of boxing in the European continent. The Championships were a qualification event to AIBA World Boxing Championships Doha 2015 and a total of 60 quota places were contested among Europe's top boxers.
List of the gold medal winners in EUBC European Boxing Confederation Championships:
49 kg: Vasiliy Egorov, Russia
52 kg: Daniel Asenov, Bulgaria
56 kg: Michael Conlan, Ireland
60 kg: Joseph Cordina, Great Britain
64 kg: Vitaliy Dunaytsev, Russia
69 kg: Eimantas Stanionis, Lithuania
75 kg: Petr Khamukov, Russia
81 kg: Joseph Ward, Ireland
91 kg: Evgeny Tishchenko, Russia
+91 kg: Filip Hrgovic, Croatia