Meet Nadia Abdel Hameed the Muslim pioneer coaching Egypt's men
October 15th, 2018 / IBA
Nadia Abdel Hameed is the lone female coach in a room full of sweaty, hard-bodied young male fighters as she watches her three charges train for the boxing competition at the Youth Olympic Games.
At 29, Hameed (EGY) has become the first female Arabic coach at a boxing tournament at an Olympic Games – another major step in a journey in which she has overcome opposition and prejudice.
"I have shut many mouths that tried to stop me," Hameed said. "I got so many attacks… We're Muslims, and the reaction was very strong – 'How dare a woman become a boxing coach? And even worse: she is coaching boys!'
"It was something very unusual in my country. I was the first woman to make a professional career out of boxing."
Born in a country where women were not even allowed to walk in the street on their own until the late 1950s, Hameed fought her way up after stepping into a ring for the first time at the age of 14.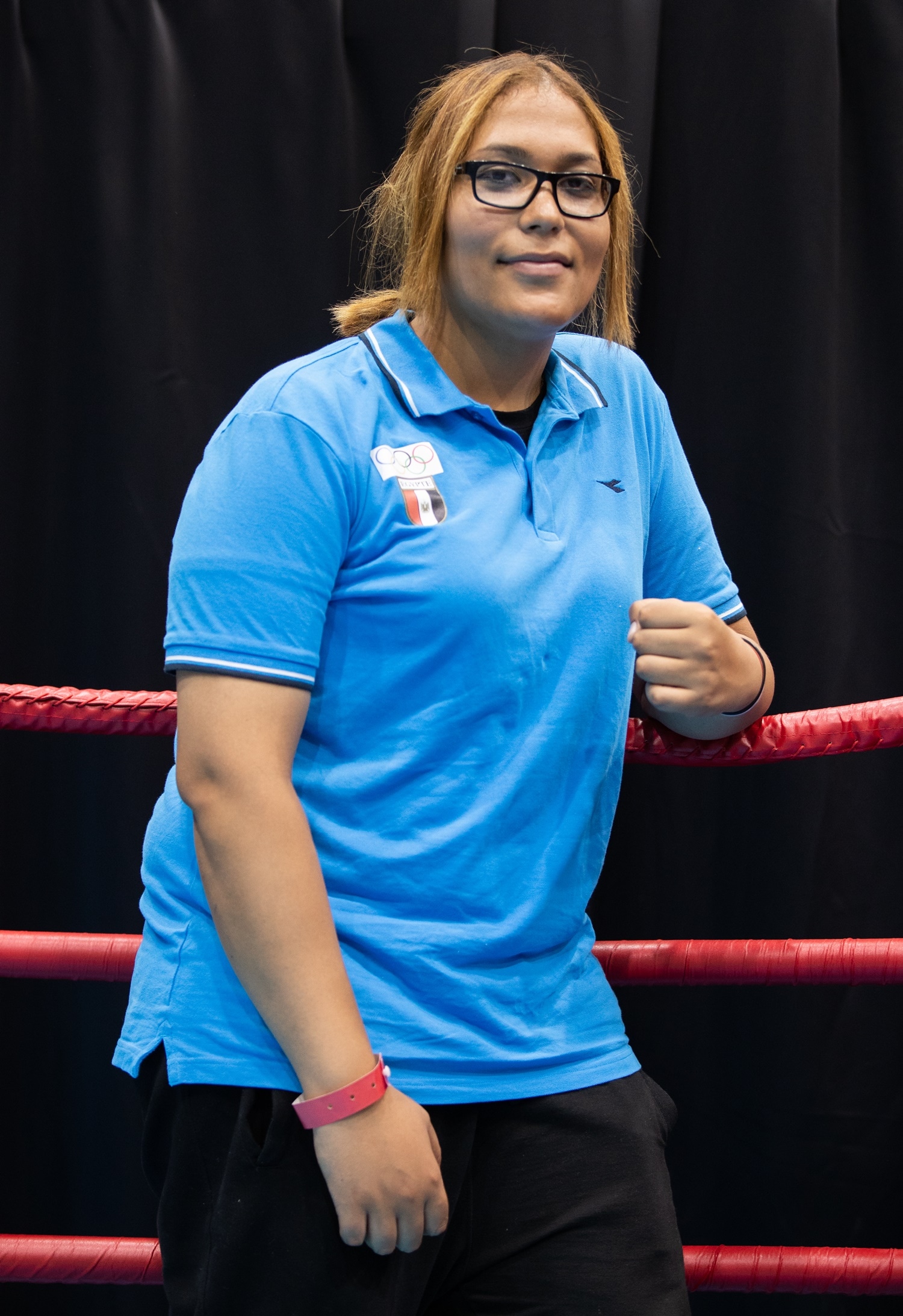 A former basketball player, she was invited by a coach to try the sport when he saw her watching a sparring session. Her initial reaction was to refuse – she did not fancy a broken nose.
She took some convincing, but the decision to box paid off, as she went on to become national champion seven times in a row and finish fifth at light-heavyweight at the 2008 International Boxing Association (AIBA) world championships, boxing as Nadia Mohamed. And she never did suffer a broken nose, only a tooth.
In 2009 Hameed was invited to assist a Cuban coach hired by the Egyptian Boxing Federation. It did not take long for her to step out of the ring and focus on training boxers.
In the two years she has been head coach of Egypt's youth team they have made impressive progress. Her fighters won all three spots available for the NOC at the African qualifying tournament for Buenos Aires 2018 and won two bronze medals in the world youth championships – their best ever result.
Hameed accepts there has been an improvement in women's rights in her country, but says there is still a long way to go.
"Egypt has become more modern, but there's still a wrong mentality to put a limit to women, to stop women, to say we are not strong enough. She can't dream of anything big. In fact, all we need is just a chance.
"My journey wasn't easy. After the revolution in 2011, there has been more women speaking up. This is not only about ourselves, but about our children and their future.
"I always say that, in my country, and in all Arabic Muslim countries, if you give a woman a chance she will achieve more than anyone can expect. We just need the chance."
For her, the strength of Arabic Muslim women has been shown by the success at the YOG of Salma Abdelmaksoud (EGY), who won gold in individual modern pentathlon, Neama Said Fahmi Said (EGY), silver in 58kg weightlifting, and Fatima-Ezzahra Aboufaras (MAR), gold in +63kg taekwondo.
As for her fighters, they do not really see any difference between man and woman when it comes to coaching.
"She's a very good coach and knows a lot about techniques," said Ahmed Elsawy Awad Elbaz (EGY), who made his debut in the boxing competition on Sunday with an impressive victory over Jai Ropata Dennis (AUS) in the men's super heavy category (+91kg).
"She taught how I should defend myself better. For me, there's no real difference between being trained by a man or a woman."
Credit @Olympic Information Services