AIBA YOUTH WORLD CHAMPIONSHIPS BAKU 2010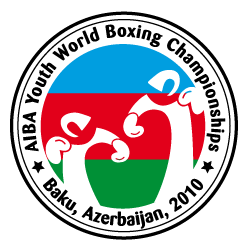 From 20 April
to 02 May, 2010

Baku, Azerbaijan
Boxers between the ages of 17 and 18 competed in this year's edition of the AIBA Youth WorldChampionships in Baku, Azerbaijan. As of the end of the final registration period on March 22nd, 105 countries were sending 532 competitors to the second edition of the championships but due to the volcanic eruption in Iceland, 466 boxers made it to Baku.
This year's event should have taken place from April 20 to May 2 but the only qualifying event for the Youth Olympic Games had to be postponed and started on April 25 with the finals on May 3.
The Championships were staged in 11 Weight Categories: 48kg, 51kg, 54kg, 57kg, 60kg, 64kg, 69kg, 75kg, 81kg, 91kg, 91+kg. The bouts consisted of three rounds of three minutes each with one minute to rest between rounds.